How do I migrate a timeline from BackThen to Huply?
If you've already created a pet timeline in BackThen, you can move it to Huply in a few short steps.
First, open up the BackThen app and the main menu. From there, you have two options.
OPTION 1
If you're used to managing your timelines via the Manage Children option, tap on that option in the Account section:
and then select the Do you have a pet banner to start the migration process.
OPTION 2
Alternatively, you can navigate straight to the Do you have a pet migration process from the main menu, in the About us section:
MIGRATION
You will reach a screen that explains the benefits of Huply, and at the bottom there is an option to Migrate a timeline. Select this.
Then tap on the name of the timeline you want to send across to Huply.
Finally, select the type of pet - don't worry, we only use this information to decide how to display the timeline to you, we don't want cat themes on your labrador, for example!
And then you will get a confirmation as follows: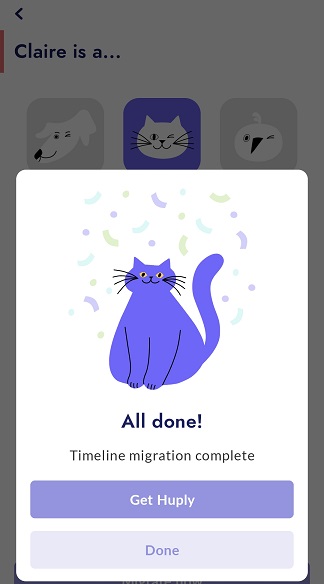 And that's it! If you want to migrate another timeline, select Done and then go through the process again, or to jump across to Huply, tap Get Huply and you'll be given the option to download the app.
Remember - you don't need to create a new account for Huply - just sign in with your BackThen details and you'll see your newly transferred timelines immediately!
---
---
< < Back to Coming from BackThen?
If the guides on these pages don't answer your questions and you want to get in touch, please visit the Support Site or write to us: support@huply.com